India and Southeast Asia: Land of Opportunity and Challenges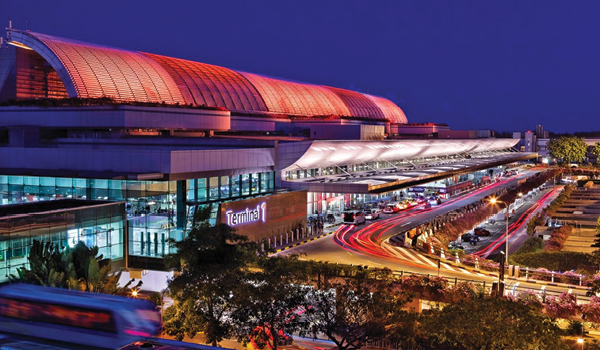 The region offers a promising but complex supply chain climate for companies interested in expanding globally.
More to the Story:
India and Southeast Asian countries such as Thailand, Singapore, Malaysia, Indonesia, and Taiwan represent a vibrant and tantalizing region for many companies looking to expand and build their global customer bases. In turn, these nations are welcoming interest from abroad, dedicating resources to develop supply chain networks that can sustain industry and encourage rapid growth.
India's stable government, solid infrastructure, and ambitious policy efforts—the government is focused on growing GDP by 8 percent year over year—indicate that the country has "a very bright supply chain future," says Arun Sharma, manager of global forwarding for third-party logistics provider C.H. Robinson. "Today, India's economy has visible momentum, energy, and optimism."
India has achieved rapid growth in the services sector, including projections that logistics in the country will exceed $2 billion by 2019. "This growth underlines India as a land of opportunity for logistics-oriented companies," says Ravikant Parvataneni, CEO of Crimson & Co. India, a firm that helps companies establish warehousing infrastructure and supply chains.
Southeast Asia's Promise
In Southeast Asia collectively, the economic outlook also appears promising, with estimated economic growth of 4.7 percent in 2017 and 4.8 percent in 2018 for the region, according to the United Nations and Social Commission for Asia and the Pacific.
"The next decade should be exciting for Southeast Asia, as many industries have been focusing on this emerging market," says Tony Tan, director of global forwarding for C.H. Robinson SE Asia. "As one of the fastest growing regions, and with a large customer base and growing middle class income, Southeast Asia has the potential to become a major supplier region, as well as a market for global economies."
The region's diversity offers both unique opportunities and complex challenges. "The varying maturity levels of development mean companies must calibrate different supply chain strategies to optimally navigate the standards and quality prevalent within the individual markets," notes Norman Mummery, senior vice president, Asia-Pacific logistics/supply chain management for DB Schenker, a Germany-based logistics provider. "Trade in the region requires a delicate balancing act, not only to respond quickly to market but also to maintain operational dexterity to suit the regulatory needs of every supply chain stakeholder."
Infrastructure investment in India and the countries of Southeast India has been robust in the past few years. But continuing to build on recent growth will be a critical component of these countries realizing their potential.
Sharma points to major infrastructure developments in India as an encouraging sign. In the past five years, the country has developed road infrastructure and built world-class international airports and seaports. In addition, India has shown a continuing commitment to expand in this area, including a target of nearly $377 billion earmarked for infrastructure developments in the next three years.
"The government is going all out to provide the necessary infrastructure for companies that want to do business in the country," Sharma says.
Parvataneni applauds the commitment to improvements, but notes the changes are still "not at the pace we all would have wanted." In fact, the biggest challenge to growth in India remains "the poor quality of overall supply chain infrastructure," he says.
Consequently, shippers wading into trade with India must have a strong understanding of regional transportation networks. Main routes are reliable, "but reaching Tier 2 and Tier 3 cities, and towns beyond the span of the metros, is an onerous task," Parvataneni says. "Having good regional connectivity is vital to reaching the end customer."
Bridging the Divide
In fact, across Southeast Asia, the discrepancy between urban and rural can be dramatic, and bridging that divide is essential. "Technology and automation in the large, developed, and dense cities must be able to integrate extensively with the increasingly complex hinterland," Mummery says.
The infrastructure in Southeast Asia can vary widely among the countries, but the region's general emphasis is on "developing roads, ports, and airports as a top priority, which is improving capacity and access to support growth," Tan says.
For instance, Indonesia has increased its national budget for infrastructure spending by nearly 100 percent over 2016. "And its infrastructure investments are expected to continue increasing in the future," Tan adds.
For all Southeast Asia countries, "it's important to understand that transportation plans that work on paper don't always work in real life," Tan notes. "Frequent challenges related to natural events can occur. For instance, low tide can affect access to countries that rely on river ports."
Overall, in the region, "while the usual modes of air and ocean infrastructure are developing well and steadily, there remains further room for development in the road and rail sectors, primarily across the land-bordered countries," Mummery says.
In India, a highly skilled workforce provides a boost to the logistics sector and offers critical capacity to help support growth. "The country has huge human resources capital—people with great knowledge and skills," Sharma says.
At the other end of the spectrum, an obstacle to Indonesia's efforts to improve its supply chain environment and enable growth is a lack of skilled workers in the logistics field, according to a study conducted by RMIT University in Australia with partners from Indonesia.
"A huge gap" in the supply of skilled logistics workers serves as "a major impediment to the nation's attempt at lifting its national logistics performance," the report says.
While Southeast Asia has "divergent levels of worker skills and productivity, aligning corporate expectations and global business practices with local workers' expectations is an issue," Tan says.
Ease of Doing Business
A potentially momentous event in the Indian logistics community arrived July 1, 2017 with the implementation of the Goods and Services Tax (GST), a single, common tax for all services across India. The tax replaces what Parvataneni describes as a "plethora of different indirect taxes determined at a local level." The GST is "a game-changer that will essentially unite India under one common market," he says.
The new tax will make it easier for shippers to locate their warehouses anywhere in India without worrying about navigating a gauntlet of different taxes that vary among the localities. Establishing the GST will also make it simpler to move goods between states.
"The GST represents a huge opportunity for companies that want to expand their businesses to new markets," Sharma says.
The GST is coupled with the Make in India initiative, which launched in 2014 to boost manufacturing in the country by facilitating investments, fostering innovation, and enhancing skill development. The initiative has helped spark growth of more than 46 percent in foreign direct investment in the country since its inception.
While India has taken major steps to improve the ease of doing business, Southeast Asia faces challenges in that area. Singapore, and to a lesser extent Malaysia, are exceptions—but in other countries, companies must confront "different policies and procedures for investment licenses, customs formalities, taxation, and free trade zones," Tan says.
In that environment, paying attention to the details of legal paperwork is necessary. "Shippers should have their import/export code and all required documents and licenses, as well as electronic declarations where possible, in place before they start shipping," Tan says.
India's 1.2 billion consumers and countrywide shift toward more online shopping makes it an increasingly popular location for e-commerce. The increase in e-commerce volumes and the addition of new airports have made freight rates more competitive, too.
India remains at "a nascent stage," Parvataneni says, particularly alongside China, but its relatively young demographic "represents a huge opportunity with lots of potential for growth."
E-commerce's rise in Southeast Asia continues to be a massive trend, with multichannel trade at shops and markets gaining popularity. Airport construction has improved direct flight frequency, and motorcycle delivery riders have contributed to capacity for last-mile deliveries in major metro areas.
The aerospace, defense, and railway industries are finding particular success in India. Retail tops the list in Southeast Asia, followed by real estate, finance, technology, and labor-intensive industries.
"Brands with innovative ideas and dynamic characteristics are always a good fit in countries that have a large majority of young people with disposable income," Tan says. "That is the case in both India and in Southeast Asia."
Success Stories
For companies with an eye on building their presence in India and Southeast Asia, a number of case studies can serve as guides.
Walmart, for example, employed a partnership with Bharti, an Indian conglomerate, to move adroitly into the Indian retail sector. And efforts by Abercrombie & Fitch, Gucci, Tommy Hilfiger, and Dolce & Gabbana to link up with DLF, a commercial real estate developer, to arrange retail chain stores throughout India is "a huge success story," Sharma says.
In Southeast Asia, Tan highlights companies such as AEON, the Japan-based retailer that has developed a large presence in Malaysia; Uber, the U.S.-based transportation networking company that has been expanding into Southeast Asia; and Grab, the Singapore-based ride-sharing and logistics services company that has grown throughout the region, for their success navigating the market.
(www.inboundlogistics.com)